Phobos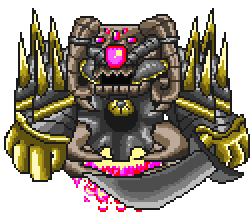 Phobos is a Crime against nature Tremode Enemy that rarely spawns at night. It can hit hard and go through walls like a bitch, making it anoying to fight in general. Its drops, Carbon Steel and Eye of Oblivion, are used in the Stone of Knowledge.
This enemy spawns at the worst times on the surface. His absolute Giant health makes him the most annoying spunge in the fucking game.
Want to relax and build a bit? Too bad! This fucker just spawned, and you have to fight him slowly for the next 30 minutes.