Frost King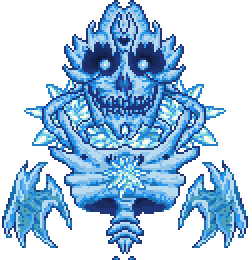 The Frost King is a Hardmode boss that spawns in the Snow and Glacier biomes.
Summoning
[
]
The Frost King doesn't spawn by himself, and must instead be summoned with a Frost Crown. He can be summoned at night in either the Snow or Glacier biomes.
Behavior
[
]
The Frost King will attempt to chase down the player and sit atop them. He has several attacks that hinder the player to allow him to close the distance between the player and him.
Attacks
[
]
The Frost King has four different attacks and each one is telegraphed by the motions of his hands.
The Frost King launches a large square of icicles outwards from himself. He communicates this to the player by raising his right hand.
Trivia
[
]
Notes
[
]
History
[
]

Pre-Hardmode Enemies •
Hardmode Enemies •

Tremode Enemies •
Event Enemies •
Bosses •

Friendly NPCs