Brutallisk
Brutallisk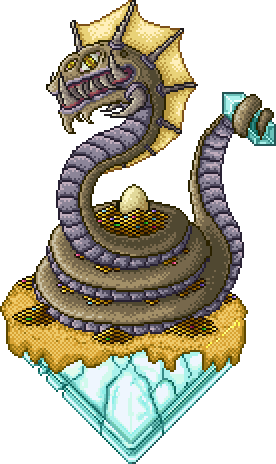 Drops
Item (Quantity)Rate

16.6%

16.6%

16.6%

16.6%

16.6%

16.6%

10%

14.29%

Aquamarine

(10-18)

100%

20%

Treasure Bag

(Brutallisk)

100%
Map Icon
The Brutallisk is a Tremode boss.
The Brutallisk will not spawn on its own. The only way to summon it is to use a Royal Egg which can be used in the desert.
The Brutallisk attempts to ram into the player.
It summons Quetzalcoatl
It can summon Naga
Shoots homing and small fireballs similar to those that Betsy shoots.
It can summon the Sandstorm event
His stats are now higher.
The Brutallisk boss and its attacks come from a suggestion made by Ser_FruKtoz

Pre-Hardmode Enemies •
Hardmode Enemies •

Tremode Enemies •
Event Enemies •
Bosses •

Friendly NPCs